The Producers Masterclass, 9+10 June 2012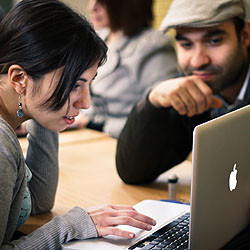 The Producers Masterclass is a two day workshop that shows you how to become an effective and successful film Producer.

Stop waiting to find a producer to make your projects happen and become that producer.
When: June 9th/10th 2012
Where: The London School of Film, Media & Performance at Regent's College
How Much: £139
'I've just sold my first feature film to 15 territories worldwide with Stephen Follows helping me successfully navigate the murky waters. This is a guy who knows how producing movies works - I mean REALLY works - but he isn't going to say nice things to make you feel better about it! He's changed my perception of how I see the industry. I am better armed going out there to make my second feature film.'
Mike Mindel, Producer 'Don't Let Him In'
'I've just sold my first feature film to 15 territories worldwide with Stephen Follows helping me successfully navigate the murky waters. This is a guy who knows how producing movies works - I mean REALLY works - but he isn't going to say nice things to make you feel better about it! He's changed my perception of how I see the industry. I am better armed going out there to make my second feature film.'
Mike Mindel, Producer 'Don't Let Him In'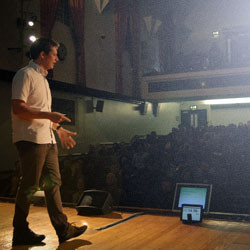 So why should YOU Produce? Simple, it's the best way to be sure your work gets made and distributed, be you an writer, director, actor…


But while producing your own small projects is a useful part in the journey to success, there are some things you don't want to learn the hard way! Trust us, we have been there and got the T shirt!
To succeed in producing you need to: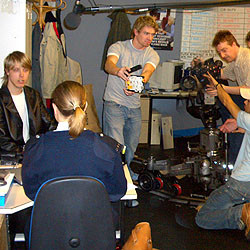 Take control - Your career won't just happen – you need to be informed, prepared and guided.  Making no-budget films will NOT automatically lead to bigger budgeted work.  99% of producers start by blagging resources for short films, and this serves as a great introduction to the role.  But this will only get you so far and very quickly you'll find you're stuck in a repetitive cycle of short films and no-budget productions.  If you want to move in your career you need to find new sources of knowledge.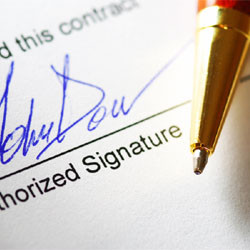 Prepare yourself - Don't wait until you're sued or screwed before learning about contracts. The legal paperwork of any production is vital and serves to protect you, your project and the people around you.  And yet so few producers take the time to learn these basics.  Lawyers are seen as an expensive luxury meaning many producers don't worry too much about ensuring their contracts and agreements are secure.  Until you're sued or screwed, that is! Plus, without these basics, you can never sell your film.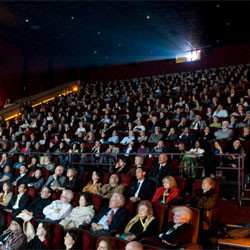 Don't just get your work made, Producers get movies SEEN and DISTRIBUTED. One of the greatest skills a producer can have is the ability to pitch - to financiers, investors, cast, crew, agents, distributors, distributors, audiences… everyone you meet! You need to be able to create momentum for what is after all just typed pages of text, and get people excited about an event that hasn't happened yet, to love a piece of art who's quality is unknown.  We'll show you how.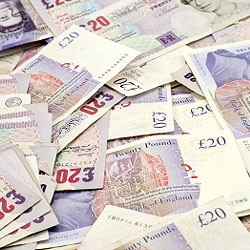 Get paid - Being a producer and being paid to be a producer are two different things. We make no apologies for it, we WANT TO GET PAID! Making a living in the industry is tough but perfectly possible. Being a full-time producer is similar to being an entrepreneur and so you need to build your own network of clients to provide yourself with paid work.  From the outside it's hard to figure out just how most producers find work and make money.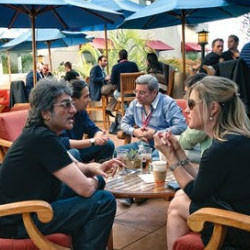 Build your network and become an infleuncer. It's not what you know, it's WHO you know. An old cliché perhaps, but true. How do you network with powerful people who can get your movie made? How do you infiltrate the circles where cash flows freely? Who are the gatekeepers and how do you get past them? Assistants, agents, managers, lawyers… We show you how.
'Stephen's session on producing was hugely inspiring but most importantly it was full of useful, practical tips on overcoming some of the many, many hurdles a producer will face. The pearls of wisdom were met with furious note-taking.'
Hayley McKenzie, Screenwriter and Producer
What You Will Learn
Process: What is the timeline, arc and requirements of a producer?
Procedure: Breaking the process down into the specific, actionable steps YOU need to take to produce your movie.

The Idea
Overview of world markets
What budget level is the current sweet spot of risk v reward
Using the EIS model and why you should do it too.
Attracting high net worth individuals.

Prep
Setting up a company and registering for VAT.
Setting up an EIS company, step by step, including legal and accounts paperwork.
How to turn your idea into an investible business model.
What to avoid in your project.
Your legal requirements (insurance, health and safety, risk assessments)
Where you spend the money including sample budget.
How to cashflow the money

Film Prep Workshops
Breaking down the script workshop
Budgeting the script workshop
Scheduling the script workshop

Shoot
What to do during the shoot.
Dealing with overspends.
The paperwork you need signing.

Post
What to do during the edit.
The UK tax credit
Doing the final budget.
'I learnt more with Stephen in 30 minutes than I did in 3 years at university studying Media Production!'
Graham Curry, Freelance Production Manager, Howling Woolf Films

Sales and beyond
Filing the first accounts.
Doing a deal with a sales agent / distributor
Paying yourself
Paying your investors
Long term management of the company
Closing the company / selling the assets or company
The next film
The final analysis
Includes Invaluable Producing Resources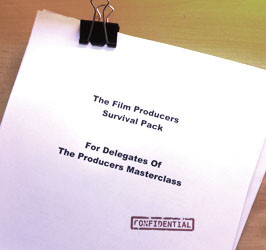 Every participant on the workshop gets a pack to keep which includes vital producing resources including: 
Sample contracts from key agreements;
Investors' agreements and related paperwork;
Budget breakdowns for feature films (no, low, medium and high budgets), music videos, adverts and online series;
Paperwork from recent Hollywood productions, including cost reports, budget breakdowns and sales projections;
Schedule Overview
'I learned more about the real world of film production from Stephen, than I could ever have gleaned from a dozen books on the subject. I'd recommend anyone who's serious about a career as a producer to spend time in his company and listen'
Mark Lo, Filmmaker
Day 1 Producing Your Feature Film / Essential Producing
What Producers Need in a Script – Spec scripts, hiring a writer, securing adaptation rights.
The Business of Film – How the film business works, setting up your company, legal requirements, accounting.
Investment – Finding private investment, building a business plan, crowd-sourcing.
How Producers Read (and Alter) Budgets – What a film should cost, where to spend it, sample budget explanation.
Free Money and Tax Credits – Funding schemes, producers tax credit, local tax incentives, the new EIS scheme.
Contracts and Not Getting Sued – Cast, crew, writer, directors, producer, investors, music and more.
Adding Value with Top Crew – Hiring & firing crew, fees & payment, working with highly experienced crew.
Producing a Cast That Matters – Attracting a top cast, dealing with agents, handling actors.
Getting Your Film Noticed – Getting coverage for your film, posters, press materials, photography.
Avoiding Music Disasters – Using commercial music, hiring a composer, music rights & soundtracks.
Deliverables – What you'll need to deliver including full 'Chain of Title'
Distribution – Sales agents, distributors, film markets, collection agents. 
Day 1 wraps with an evening of power networking. 
Day 2 Building a Career / Advanced Producing
Your Career – What to make next, guiding your career, gaining a reputation
Making the Impossible Happen – Producing yourself out of dead-ends.
Controlling Creatives – Dealing with divas, do-nothings and d**ks.
Negotiation – Getting the best price, best terms and the best deal every time.
Effective Scheduling – Creating deadlines in the creative environment,
Building Momentum – Creating projects from nothing and a sense of something larger than yourself.
Finding New Money – What to do when the usual funding sources fail.
Handling Major Crises – When it all goes wrong and you're in charge.
Networking like a Pro – Long-term professional relationships, making the most of opportunities.
Winning Awards & Festivals – What programmers look for, how to tweaks the odds in your favour.
Brand Funding – The new world of corporate-sponsored films.
Make Money Producing – Music videos, advertising, online video and corporate films.
Hollywood Accounting – How the Studios screw everyone else (and how to protect yourself)
'Now I feel I can produce in today's climate. Great de-mystification!'
Gillian McIver, Producer

Our promise: If at the end of the two days you don't feel empowered to make your feature film then you can get your money back.
Terms and Conditions
If you need to cancel your ticket purchase you can get a full refund up until 30 days prior to the first event. After that we cannot offer refunds. Refunds will be paid back promptly although there will be a 10% admin fee deducted. Alternatively, tickets are transferable to other people if you can find someone to replace you. We are happy to change the name on the ticket. Please allow 48 hours for this change to take place. We reserve the right to decline admission and offer a full refund at our discretion. We reserve the right to change the venue. We reserve the right to cancel the event and offer a full refund.